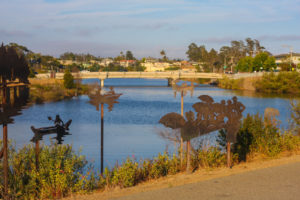 The Ebb & Flow River Arts Project, an initiative of the Arts Council Santa Cruz County, aims to build our local arts community in the context of further engaging the people of Santa Cruz with the San Lorenzo River. The project funded sculptural installations by local artists along the levee 'Riverwalk', and culminated in a Kinetic Sculpture Parade along the river from the basketball arena to the Tannery.
(I am always thrilled to see people recognizing and exalting the health and biodiversity of the lower San Lorenzo river, where I administer the San Lorenzo River Urban Wilds citizen science project for this reason.)
This colorful and light-hearted event drew together several hundred people to enjoy a tranquil Saturday noontime on the river and the creativity of several dozens of their kinetic fellows. The paraders featured a variety of eccentric bicycle remixes, outlandish costumes, and a healthy contingent of papier-maché toting, conservation-minded youth.